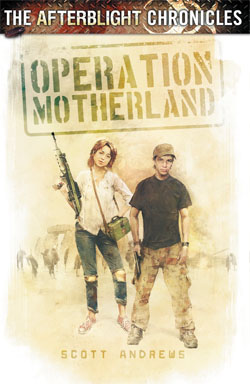 "I celebrated my sixteenth birthday by crashing a plane, fighting for my life and facing execution. Again."
Lee Keegan travels to Iraq on the trail of his missing father, only to find himself caught between desperate rebels and a general who wants to strap him into an electric chair.
In England, Jane Crowther, one time matron of St Mark's School for Boys, attracts the wrong kind of attention and has to fight to protect her new school from unlikely enemies.
And in a bunker underneath Washington, a madman issues orders that will tip two devastated countries into total war.
This is the first year of St Mark's School for Boys and Girls. It will be a miracle if it sees a second!
My second novel, the middle book of a trilogy that began with School's Out and ends with Children's Crusade.
I came up with the idea of Lee flying to Iraq to get his dad before I even started writing School's Out (SO). That's why I made a point of establishing in SO that Lee had been in the RAF cadre of his school's cadet force and had learnt to fly with them, as I did when I was at school.
The other eureka moment that spurred Operation Motherland (OM) into existence was the realisation that Lee was not the hero of SO – he was the protagonist. The real hero, the one who did the right thing and made a stand, was Matron. I wanted to give her a voice in the second book and explore her character more. The epilogue at the end of SO was designed to set that up, as well as giving her a mysterious backstory. This backstory is explored more in OM, but it will form the core of the third book, which at the time of writing may be called either Spider's Web or The Children's Crusade.
I attended a private boarding school, worked as a teacher, had a crush on my matron, was in the RAF cadets and live in the area where SO is set. It's fair to say that for my first novel I wrote within my comfort zone. But I've never been to Iraq, and I'm no expert in military matters, so OM is an attempt to push myself, to rely less on experience and more on imagination; to see if I can write something other than what I am familiar with.
The themes of SO were clear – leadership and loyalty – and it had a very clear antagonist in Mac. OM is more difficult to quantify. I wanted to explore the relationship between Lee and his dad, and between Matron and the children in her care. But I also wanted to try and address the dehumanising effect of being a soldier; how on one hand, a uniform and the imperative to obey orders can strip away a person's individuality and conscience; and on the other hand, how a person can be made into a soldier against their will by the need to defend themselves and others from bullies and thugs.
Most importantly, though, whereas SO is a black comedy, OM is a balls to the wall action movie.
Reviews
At the time of writing the book is running at 3.7 stars on Amazon.com, 4 on Amazon.co.uk and 4 on Goodreads. Please feel free to visit any of these and add your opinions.