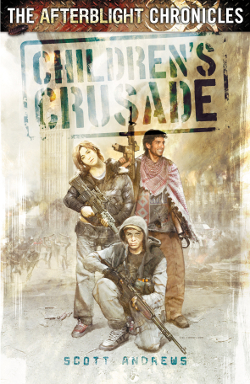 The orphaned children of post-Cull Britain have always been easy prey for gangs, cults and killers. But now something has changed.
Organised teams are roaming the country, taking children from their homes and villages, spiriting them away into the night.
Jane Crowther is willing to risk everything to rescue them, but to save the children Jane must confront the woman she used to be, and the man who killed her.
This is the third and final year of St Mark's school for Boys and Girls. But it's not going down without a fight!
This book is the conclusion to my trilogy of Afterblight Chronicles which began with School's Out and continued with Operation Motherland. A more personal book, I wanted to really delve deep into the characters this time, after the breathless pace of Operation Motherland. Also, I wanted to make sure that, while leaving it open for me to return to the world and characters if I wanted to, it had what felt like a satisfying conclusion.
It is as different to Operation Motherland as that book was to School's Out. I felt strongly that I wanted to avoid the trap of writing the same book three times with subtle variations. Whereas the first book was all written in the first person past by Lee, the second was written in first person past by both Lee and Jane. This time I added an omniscient narrator, both in current time and a lengthy flashback, and changed Jane's first person narration to the present tense. All part of pushing myself to keep the books different, fresh, and to make sure I keep trying new things as a writer.
Extras
In July 2010 Jenni Hill, my editor at Abaddon, interviewed me about Children's Crusade in a Soho gutter. I had chronic bronchitis at the time and was high on all sorts of interesting painkillers. You can kind of tell…

Interview with Pornokitsch blog – Part 1 | Part 2
Free Afterblight Chronicles short story – The Man Who Would Not Be King – PDF download
Reviews
This book was one of five books shortlisted for the 2010 Kitschie Award on the Pornokitsch blog. Read their in-depth analysis and review.
At the time of writing the book is running at 4 stars on Amazon.com and 4.5 stars on Amazon.co.uk but is getting no love at all on Goodreads. Please feel free to visit any of these and add your opinions.
Graeme's Fantasy Review – 8.5 out of 10.
"A couple of deaths came completely out of the blue for me and emphasised just how well Andrews has been quietly going about the business of creating characters that grow on you but are still only mortal."
Unbound
"a solidly enthralling read"
Mass Movement Magazine
"an exciting read"
Falcata Times
"great characterisation, it has some serious pace and above all else the way in which the story's lead character interacts with the reader makes them someone that you really care about. Great stuff"
Jack Giles' Broken Trails
"These post-apocalyptic tales boast a strong story-line, real people in that they are not heroic – they break under pressure and torture – nor is any character there to make up the numbers."