Last summer I was lucky enough to do some writing for the forthcoming computer game Sniper Elite V2. Basically this meant doing some plotting, developing the narrative and scripting a bunch of cut-scenes and voiceovers. It was loads of fun and has now led to this press release, hot and shiny from the, um, press of my old buddies at Abaddon books: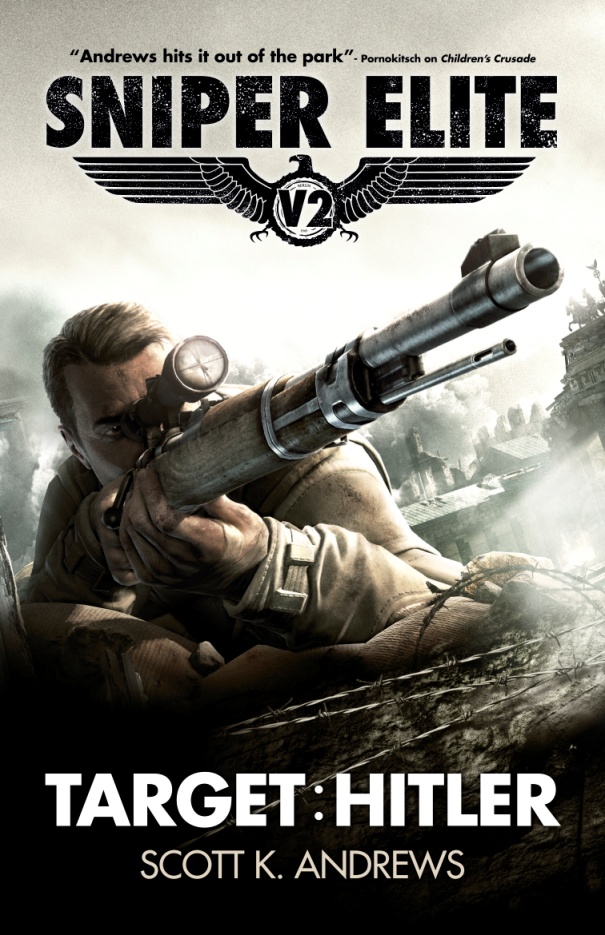 Everyone knows the story of Adolf Hitler's final days — cornered, insane, killing himself in despair as Berlin burned above him.
But this story is based solely on the eyewitness accounts of the people who shared the bunker with him—the people most loyal to the Führer; the people most likely to lie to protect him. The world's foremost Nazi hunter has never believed the official account; he has spent his life chasing a phantom, convinced that Hitler escaped the bunker.
Now, as he lies on his deathbed, he receives a mysterious visitor; a man who claims to know the true story of Hitler's death; a man named Karl Fairburn.
Is he just another conspiracy fantasist, or could his tale possibly be true…?
With the release of the hotly anticipated third-person World War Two shooter Sniper Elite V2 just two months away, Rebellion is to publish a special tie-in ebook.
Sniper Elite V2: Target Hitler is an exclusive ebook novella from Rebellion's publishing imprint Abaddon Books.
Written by novelist and the Sniper Elite V2 game writer Scott K. Andrews, the thrilling book ties into the game's pre-order downloadable content offer, in which players have one chance to kill the leader of the Third Reich before he escapes the ruins of Berlin.
The title will be published on 1st May and will be available for Kindle, Nook, Kobo, and through all major e-retailers.
Scott K. Andrews has written three novels for Abaddon—soon to be collected as the School's Out Forever omnibus in September—as well as episode guides, magazine articles, film and book reviews, comics, and audio plays for Big Finish.