Well, it's been an interesting day, and it certainly got this new site off to a flying start.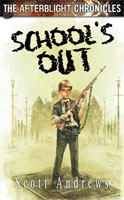 I was first told that School's Out was about to be optioned over two years ago. Needless to say I was pretty excited.
Quick as a flash, nothing at all happened. The recession hit, companies retrenched, silence fell, and Stronghold beat School's Out to the punch as Abaddon Books' first optioned book.
Last month I attended the London Book Fair where the estimable Jason Kingsley, head honcho of Rebellion, told me that another company was about to option the book. Once bitten, twice shy – I allowed myself a soupçon of excitement but adopted a firm 'believe it when I see it' philosophy.
So when the press release arrived and I found out that the deal had gone through, I had to pinch myself. Lucky I set up a new blog yesterday, but it was more lucky accident rather than cunning plan.
Having spent the day being deluged with congratulations from lovely people, I'm still beaming.
I can't, however, answer all your questions at this time. Mostly this is because I honestly don't know the answers yet. And don't expect a constant trickle of news, either – the movie business does not move quickly.
The one question I can answer right now is: "Are you going to be rich?"
To which I am free to reply: "Hahahahahahahahahahaha! No."
But I'm still smiling 🙂